Satanist-korset
[ This text is also available in English ]
Ett vänt kors kallas för Petrus-kors. När denne skulle korsfästas bad han enligt uppgift att bli korsfäst upp och ner. Sanningshalten i detta kan diskuteras, men faktum är att den förment satanistiska symbolen används av den katolska kyrkan.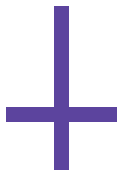 Satanists are not the brightest folks to begin with, but you would think they would check to see if a symbol already had a meaning before adopting it as their own. Satanists think if they invert a symbol, it will make it evil or if they spell something backwards it makes it cool. The fact is that this symbol has been known as Peter's Cross for the better part of two-thousand years. It is written and widely believed that Peter was crucified upside down by his own request.
www.nazarite.net
I beseech you the executioners, crucify me thus, with the head downward and not otherwise: and the reason wherefore, I will tell unto them that hear.
The Acts of Peter, XXXVII
Det verkar även som om en del kristna tror att en symbol blir satanistisk bara för att mer eller mindre seriösa satanister påstår att den är det. En del har rentav blandat ihop den med Fredssymbolen. De kanske skulle kolla med någon av nedanstående? Fler finns. Till vänster en församling tillhörig anglikanska Church of England, de två andra kommer från katolska kyrkan.
När påven i mars 2000 besökte kyrkan på det berg där bergspredikan lär ha hållits så väckte det viss uppmärksamhet. Bilden till höger finns i Sixtinska kapellet sedan början av 1500-talet.
| | |
| --- | --- |
| | |
| Johannes Paulus II | Michelangelo: S:t Petrus korsfästs |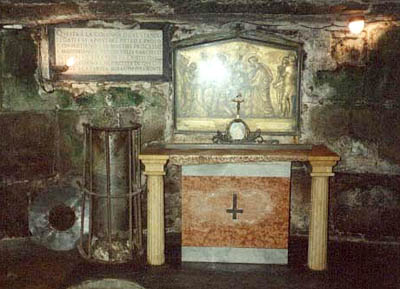 Mamertine-fängelset i Rom, där bl.a. Petrus lär ha vistats.
Altaret är uppenbarligen uppfört åt hans ära.
Relaterat: Petri namn.
Referenser:
Carl G Liungman, Tanketecken (Polaris 1993) sid 133
Wikipedia: Cross of St Peter
www.nazarite.net: Satanic symbols (inte den bästa källan i sin helhet, men citatet ovan är perfekt)
The Archdiocese of Kansas City in Kansas
The Catholic Diocese of Little Rock
Cephas Ministry: JP2 USES ANOTHER BLACK MAGICK SATANIC SYMBOL osv.
The Acts of Peter (övers. M. R. James)
Scholar's Corner: The Mamertine Prison
Tack till tyskaorden på Skalman för hjälp med heraldiken