Viktorianska möbelkjolar
Pryda viktorianer hade små kjolar på möblernas ben / pianobenen
Om man i drottningens England täckte över möblernas ben så berodde det vanligtvis på att det var tidens mode. Letar man efter lite mer rationella anledningar så nämns att de skyddade möblerna mot smuts - som var värre i det kolvärmda 1800-talet än idag - eller på sin höjd att man ville dölja att de var gjorda av enklare träslag. Men att någon någonstans skulle ha nyttjat möbelkjolar p.g.a. prydhet var ett skämt, som från början tillskrevs amerikanerna. (I texten nedan är det sista stycket det viktigaste.)
When at Niagara Falls I was escorting a young lady with whom I was on friendly terms. She had been standing on a piece of rock, the better to view the scene, when she slipped down, and was evidently hurt by the fall: she had, in fact, grazed her shin. As she limped a little in walking home, I said, "Did you hurt your leg much?" She turned from me, evidently much shocked, or much offended, - and not being aware that I had committed any very heinous offence, I begged to know what was the reason of her displeasure. After some hesitation, she said that as she knew me well, she would tell me that the word leg was never mentioned before ladies. I apologised for my want of refinement, which was attributable to having been accustomed only to English society; and added, that as such articles must occasionally be referred to, even in the most polite circles in America, perhaps she would inform me by what name I might mention them without shocking the company. Her reply was, that the word limb was used; "nay," continued she, "I am not so particular as some people are, for I know those who always say limb of a table, or limb of a piano-forte."
There the conversation dropped; but a few months afterwards I was obliged to acknowledge that the young lady was correct when she asserted that some people were more particular than even she was.
I was requested by a lady to escort her to a seminary for young ladies, and on being ushered into the reception-room, conceive my astonishment at beholding a square piano-forte with four limbs. However, that the ladies who visited their daughters might feel in its full force the extreme delicacy of the mistress of the establishment, and her care to preserve in their utmost purity the ideas of the young ladies under her charge, she had dressed all these four limbs in modest little trousers, with frills at the bottom of them!
Frederick Marryat
Att skildringen nog inte bör tas på fullaste allvar framgår om man läser mer i den Diary in America från 1839 som citatet är hämtat ur; det hela påminner närmast om Mark Twain. Kapten Marryat var f.ö. mycket läst och uppskattad på sin tid, och skrev i fler genrer än den humoristiska.
Pianos and tables were often draped with shawls or cloths -- but if the shawls hid anything, it was the cheapness of the furniture. There are references to lower-middle-class families covering up their pine tables rather than show that they couldn't afford mahogany.
Wikipedia
Sökande efter möbelkjolar ger också lika magert resultat oavsett vilken sida av Atlanten man riktar in sig på. Inte för att det är svårt att hitta möbler där benen inte syns, men dessa delar som regel rum med möbler som står helt ogenerade i sin nakenhet.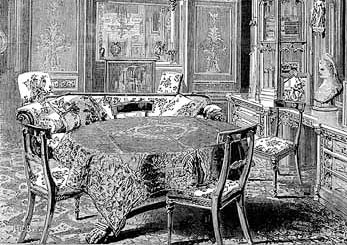 Buckingham Palace, 1887:
Prins Alberts music room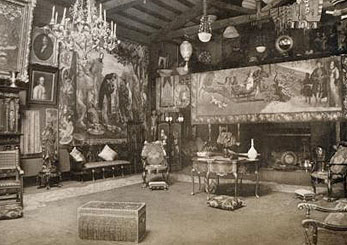 Ett burget hem i Kalifornien, ca 1900
(Inrett av Phoebe Hearst, mor till tidningsmogulen)
Utöver eget sökande i bildarkiv m.m. har jag naturligtvis frågat expertisen. På Victoria and Albert Museum, Dept. of Furniture, Textiles and Fashion, hänvisade man till Marryats text (och att den gode kaptenen nog blivit spelad ett spratt, vilket jag håller för mindre troligt).
Grand pianos, and other furniture such as centre tables, were covered with square cloths, partly to protect the polished surfaces, and as an aspect of fashionable Aesthetic decoration during the 1870s and 1880s in Britain and in America. The tops of upright pianos were also sometimes draped as part of the same fashion.
The only time when the legs of pianos, and other pieces of furniture, might have been covered was for protection during packing and transport but this would have been temporary until the piano was safely unpacked and installed.
Frances Collard, Victoria and Albert Museum
Det där med klädda möbelben är en myt jag inte stött på i litteratur före 1950-talet, en tid då man älskade att förlöjliga det borgerliga 1800-talet. Tapetserarstilen som var inne på 1880- och 1890-talen, gick ut på att ha slösaktigt mycket dyrt tyg överallt.
Peder Lamm, Antik & Auktion
Om man utgår från kungligheterna som trendsättare så kan man begrunda nedanstående bilder. Den övre med en del av Prince Albert Memorial, uppfört 1872 till minne av Victorias man som dog 1861; den nedre med drottningens eget minnesmärke, uppfört 1911 mitt framför det kungliga slottet. Någon särskild prydhet går svårligen att hitta i något av monumenten, som alltså är ungefär så viktorianska som något kan bli.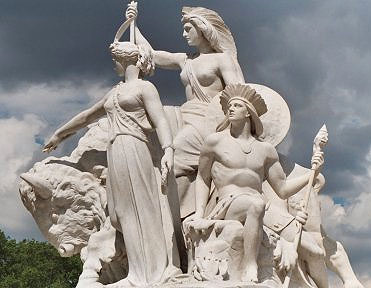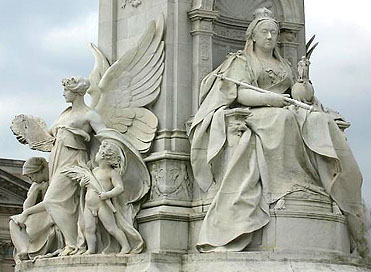 Det har antytts från vanligtvis insatt håll att det kan finnas mer att hämta betr. denna faktoid; jag håller den dock för en sådan, tills motsatsen bevisats.
Här är ett belägg för att amerikaner använde det om engelsmännen under viktoriansk tid (de "medeltida klassiker" som nämns är kända för sin synnerligen o-pryda stil):
As a result of the imprisonment of Mr. Vizitelly for the publication of Zola's translations, his firm has suppressed Henri Murger's "Vie de Boheme," and Chatto and Windus have burned all their remaining stock of Boccaccio, Rabelais and other mediæval classics. The so-called Vigilance Society, elated by this testimony to the scare they have created, are reported to be considering a crusade against a well-known edition of the early English dramatists. Thus very soon there will be pantalettes on all the piano legs through the length and breadth of merry England.
New York Times (1889)
Om nämnda sällskap har jag inte hittat så mycket, om det som menas nu är Victorian Vigilance Society eller National Vigilance Society/Association, eller om det är olika namn på samma organisation. Även om dessa moralens förkämpar hade en annan syn på det mesta så tvivlar jag på att de någonsin förordat "pantaletter" på möbler.
Påståendet letade sig även hit rätt tidigt:
I Filipstad är de så pryda så de sätter byxor på pianobenen (el. stolsbenen), med syftning på prosten A.F. Björlin i Filipstad, som protesterade mot att Ny Illustrerad Tidning 6 och 13 okt. 1866 hade återgivit bilder av antika nakenstatyer på "konstexpositionen" i Stockholm; jfr Söndags-Nisse 11 nov. 1866 och 19 jan. 1873
Pelle Holm
Relaterat: Även om man ofta sätter likhetstecken mellan "viktorianskt" och "1800-talet" så regerade hon 1837-1901. Marryats bok är alltså bara nätt och jämt viktoriansk.
Också relaterat: "Close your eyes and think of England"
Kanske inte alls relaterat: Victoria's Secret, den amerikanska kedjan i underkläder, lär ha tagit detta namn för att associera till 1800-talets England, "the cozy, inviting atmosphere of the Victorian boudouir". Sant? - Vet ej. (Men här är källa 1 och källa 2.)
Referenser:
Kapten Frederick Marryat, Diary in America (1839), kap. 37
Interior of Phoebe Hearst's Home - Hacienda del Pozo de Verona
Wikipedia (eng.): Victorian fashion; Buckingham Palace; Albert Memorial; Victoria Memorial (London)
Korrespondens i november 2006 med Mrs. Frances Collard, Victoria and Albert Museum
Korrespondens i november 2006 med Peder Lamm och Christine Hansson, Antik & Auktion
Louise and Lord Fife one m.fl. notiser, New York Times, 28 juli 1889
Pelle Holm, Bevingade ord: Filipstad (Bonnier Alba 1995)