Woodstock
The festivals were actually held elsewhere
Woodstocks officiella hemsida
Woodstock är ett samhälle en bit norr om New York. Man har där en lång och rik tradition av konst, teater och musik. T.ex. grundades ca 1903 konstnärs-kolonin Byrdcliffe Arts and Crafts Colony (en av grundarna var den svensk-födde Carl Eric Linden). Ännu på 60-talet höll flera förgrundsfigurer inom den moderna musiken till där. (Såväl artikeln från 1950 som Kornfeld kan ge ett felaktigt intryck av att ortens kulturella traditioner var någonting tämligen nytt.)
Art is woven deeply into the fabric of this valley community, which since the war has attracted a great many painters and sculptors. [...] Woodstock should prove an attractive place for music lovers this summer.
New York Times, 21 maj 1950
En annan Woodstock-bo hette Michael Lang. Han, Arthur "Artie" Kornfeld, Joel Rosenman och John Roberts (den sistnämnde bidrog med finansieringen) bildade bolaget Woodstock Ventures, Inc., för att arrangera en festival i augusti 1969 (liksom för att grunda en inspelningsstudio, som dock aldrig verkar ha blivit av).
Michael thought we should take our mythical festival to Woodstock because he lived in Woodstock and it had become popular because it was an artist's colony. All of a sudden people like Janis Joplin, Paul Butterfield, Bob Dylan, The Band and Richie Havens were living there. It had really become the 'in' place.
Artie Kornfeld
Tillställningens fullständiga namn var Woodstock Music and Art Fair - vet inte hur mycket "art" man hade tänkt sig, men den ursprungliga placeringen var mycket riktigt Woodstock:
[Michael] Lang almost found a site for the festival in Woodstock, but the owner backed out of the deal when the papers were delivered [med annonser för det stort upplagda evenemanget]. After marching over dozens of fields in the foothills of the Catskill Mountains with a blank check in the bearskin medicine bag he wears, Mike picked a farm in Wallkill.
New York Times, 23 juli 1969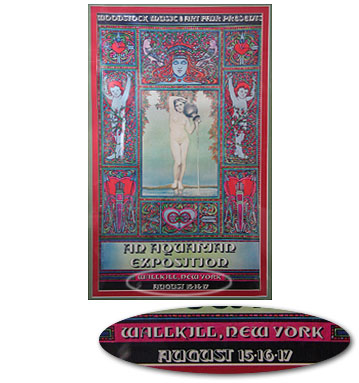 "An Aquarian Exposition" syftar på "The age of
Aquarius", alltså det som idag kallas New Age.
Wallkill fick det bli - man tryckte som synes också upp affischer där den orten angavs. (Vad namnet beträffar behöver det inte ha med flugsmälle-tillverkning att göra utan kommer nog från holländska kil = bäck, vanligt förekommande i ortnamn i denna del av USA.)
He signed the check - "I'm fantastic at spending bread," Mike says with a laugh - but he neglected to get all the right signatures from the town fathers. After Woodstock had invested hundreds of thousands of dollars in Wallkill - things like $18,000 for telephone lines - the angry Wallkill Concerned Citizens Committee finally drove the festival out. What the citizens were concerned enough to go to court about was an "invasion by 60,000 hippies." Little did they know.
New York Times, samma artikel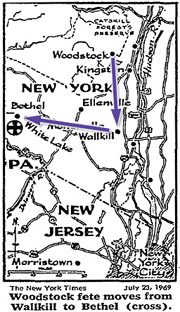 Då gick budet till Elliot Tiber i White Lake i Bethel, Sullivan county, 7 mil sydväst om Woodstock. Han ägde en bit mark som han var villig att upplåta för festivalen. Vid närmare granskning visade sig dock området vara för litet. Då hänvisade Tiber till sin granne, mjölkbonden Max Yasgur, hos vilken man fick arrenderat några fält. Detta blev klart ungefär en månad innan festivalen skulle äga rum. Vad "hippie-invasionen" beträffar så har man bara ungefärliga siffror, men antalet besökare var definitivt inte 60 000 utan uppemot 500 000.

Bethel, Sullivan county, New York, USA
Referenser:
The official website of Artie Kornfeld - se särskilt sidan Woodstock
Officiell hemsida för staden Woodstock: www.woodstockny.org
"Woodstock Season", New York Times den 21 maj 1950
"Mike Lang (groovy kid from Brooklyn) plus John Roberts (unlimited capital) equals Woodstock", New York Times den 7 september 1969
Wikipedia (eng.): Woodstock Festival