Tomtens renar
[ This text is also available in English]
The moon on the breast of the new-fallen snow
Gave the lustre of mid-day to objects below,
When, what to my wondering eyes should appear,
But a miniature sleigh, and eight tiny reindeer,
With a little old driver, so lively and quick,
I knew in a moment it must be St. Nick.
The Night Before Christmas
Clement Clark Moore (1823)
Ingen verkar ha funderat närmare över tomtens fortskaffningsmedel innan Moore¹ skrev sin berömda dikt. Men i och med den så slogs bland annat detta fast: idag vet alla att tomten har en släde som dras av flygande renar, även om man tänker sig det hela i fullskala snarare än miniatyr. (Detta är också lösningen på problemet hur tomten kommer ner genom skorstenen.) Dikten är förresten med i Kalle Anka på julafton, när tomten delar ut klapparna.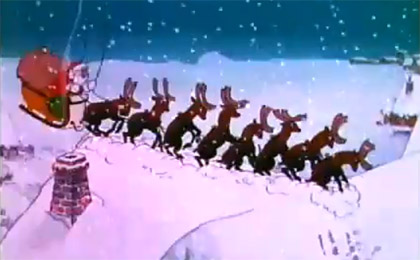 Disney: The Night Before Christmas (1933)
Notera att renarna är åtta, som hos Moore
Renar eller caribou² är lätta att känna igen, särskilt på deras karakteristiska horn och huvudet som hålls i linje med ryggen när de rör sig.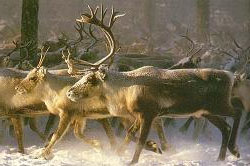 Rangifer tarandus
Man kan fråga sig vilka djur som folk har kommit att associera med tomten. En del är uppenbarligen hjortar, andra har mer osäker status, och så finns det en del underliga korsningar som just inte påminner om några faktiska djur alls, ens som karikatyrer.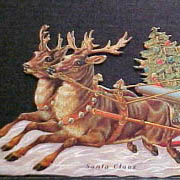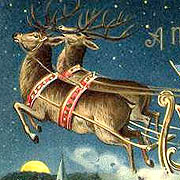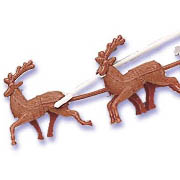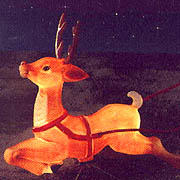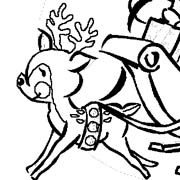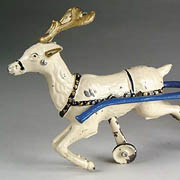 Tomtens renkor
Bland renarna så bär både tjurarna och korna horn. Eftersom tomtens renar alltid har horn vid jultid så kan man sluta sig till att de förmodligen är kor (vajor) eftersom tjurarna (sarvarna) fäller horna under vintern. Inget definitivt bevis, och det finns visst några skillnader mellan skandinaviska renar och amerikanska caribou, men å andra sidan:
[...] it's not impossible that a male reindeer could retain his antlers as late as December 24, just not necessarily the norm. And that's not nearly as unusual as a fellow who lives at the North Pole, spends the year making toys for millions of children all over the world, and manages to deliver all of them in a single evening.
snopes.com
Rudolf
Renen med den röda mulen finns inte med i dikten från 1823.
More rapid than eagles his coursers they came,
And he whistled, and shouted, and called them by name;
"Now, Dasher! now, Dancer! now, Prancer and Vixen!
On, Comet! on, Cupid! on, Donder and Blitzen!
To the top of the porch! to the top of the wall!
Now dash away! dash away! dash away all!"
The Night Before Christmas
Sagan om Rudolf skrevs 1938 (utgiven 1939). Den sång som han är mest känd genom skrevs några år senare.
You know Dasher and Dancer
And Prancer and Vixen,
Comet and Cupid
And Donder and Blitzen,
But do you recall
The most famous reindeer of all?
¹ Författarskapet har diskuterats, men den brukar tillskrivas Moore.
² Vad gäller frågan om ren/caribou - en art eller två? - så hänvisar jag till Marie Gilbert: "Although the similarities between reindeer and caribou are numerous, the differences are enough that they are classified as two subspecies. [...] Domestication is the biggest difference between reindeer and caribou.
Referenser:
The Night Before Christmas, även känd som "Twas the Night Before Christmas"
Wikipedia: Reindeer; A Visit from St. Nicholas
snopes.com: Reindeer Games; Rudolph the Red-Nosed Reindeer
Marie Gilbert, University of Alaska: Reindeer... Caribou... What's the Difference?