Vilken färg som helst, så länge det är svart
"Any customer can have a car painted any colour that he wants so long as it is black"
- Henry Ford
Citatet är hämtat ur Henry Fords My Life and Work (1922), spökskriven av Samuel Crowther. Formuleringen verkar alltså vara hans, vare sig han verkligen sade det vid det där mötet tretton år tidigare eller inte. Men slapp kunderna verkligen att bekymra sig för färgen? - Vi återkommer till den saken.
Sammanhanget är såpass intressant att jag tar med det. Ford ville hålla isär kundernas berättigade krav och deras "nycker", whims. Till de senare räknade han alltså bilens färg.
No business can improve unless it pays the closest possible attention to complaints and suggestions. If there is any defect in service then that must be instantly and rigorously investigated, but when the suggestion is only as to style, one has to make sure whether it is not merely a personal whim that is being voiced. Salesmen always want to cater to whims instead of acquiring sufficient knowledge of their product to be able to explain to the customer with the whim that what they have will satisfy his every requirement - that is, of course, provided what they have does satisfy these requirements.
Therefore in 1909 I announced one morning, without any previous warning, that in the future we were going to build only one model, that the model was going to be the "Model T," and that the chassis would be exactly the same for all cars, and I remarked:
"Any customer can have a car painted any colour that he wants so long as it is black."
I cannot say that any one agreed with me.
Ford & Crowther (1922)
Ibland sägs mer specifikt att uttalandet riktades mot Charles E. Sorensen, en av de högsta cheferna under Ford. Men som det skildras ovan skall det ha varit riktat till flera tvivlande medarbetare.
Det skulle också dröja innan denna förenkling av sortimentet (som förvisso hade avgjorda logistiska poängar - bilarna blev billigare) gick igenom; notera särskilt att 1909 års T-Ford inte ens gick att få i svart:
While this saying is true for the model years after 1913, earlier cars were available in green, red, blue and grey. In fact, in the first year, Model T Fords were not available in black at all. The switch to all black cars was due to Ford's ongoing obsession with cost reduction, and not, as is commonly believed, to reduce drying time and hence increase production.
The Frontenac Motor Company
Touring: Red or Green. Runabout: Gray. Town Car, Landaulet, and Coupe: Green.
Model T Encyclopedia: 1909
Initially all cars were painted a very dark blue, with either blue or black fenders. Black became the standard color early in the year.
Model T Encyclopedia: 1913
Black no longer available except on special order.
Model T Encyclopedia: 1927
T-Forden tillverkades från oktober 1908 (första årsmodellen var just 1909) till 1927 - samma modell under 21 år. Från 1926 års modeller försökte man att piffa upp den rätt ålderstigna bilen, och började åter att erbjuda olika färger. Bilen fick alltså noga räknat bara tretton "helsvarta" år. Å andra sidan så var just denna period dess storhetstid, och landets bilpark försågs med så många miljoner svarta T-Fordar att modellen i det allmänna medvetandet blev just svart.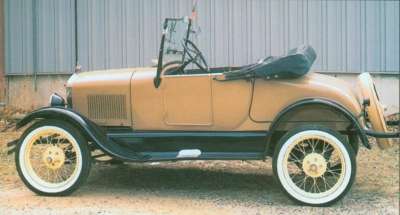 En Ford Model T Roadster från 1926: beige är det nya svarta
Ford plans new models - Price and motor are the only things not altered [...] Color has replaced the black finish on closed cars ...
New York Times, 27 augusti 1925
Varför just svart? En vanligt förekommande förklaring är att den svarta färgen man hade var den som torkade snabbast, och sålunda fungerade bäst på det löpande bandet. Den förkastas dock hos t.ex. Frontenac som nämner att en mängd olika färger med olika egenskaper och tork-tider användes för olika detaljer, och att "Ford engineering documents suggest that the color black was chosen because it was cheap and it was durable."
Det kan påpekas att Ford inte var den förste att svänga sig med den ironiska formuleringen. Flera tidigare belägg finns, här är ett:
"Oh," he said, "I don't care a durn. Paint it any colour you like, s'long's it's red!"
Woods Hutchinson (1908)
På tal om det löpande bandet: metoden uppfanns inte av Henry Ford, han var inte ens först med att tillverka bilar med den (Olds Motor Vehicle Company, 1901). Däremot tillämpade han den ovanligt konsekvent och i ovanligt stor skala.
Referenser:
Henry Ford & Samuel Crowther, My Life and Work, kap. 4 (1922, faksimil Cosimo 2007), sid 72
Wikipedia (eng.): Ford Model T
Frontenac Motor Company: A Short History of Ford's Innovation
Model T Ford Club of America, Model T Encyclopedia: 1909; 1913; 1927 - rekommenderas!
Howstuffworks.com: 1923-1927 Ford Model T
"Ford plans new models", New York Times, 27 augusti 1925
Woods Hutchinson, Instinct and health (Dodd, Mead & Company 1908)
"Charles E. Sorensen, 86, Dead [...]", New York Times, 14 augusti 1968 - med C.E.S.-proveniensen