I am become death
[ This text is also available in English ]
"I am become death, the destroyer of worlds"
Robert Oppenheimer, Trinity 1945
J. Robert Oppenheimer ledde forskningen i Manhattan-projektet; epitetet "atombombens fader" är lite missvisande eftersom det inte går att peka ut en enskild person, men Oppenheimer stod utan tvivel för en av de viktigaste individuella insatserna.
I en filmad intervju från 1965 beskriver Oppenheimer följande reaktioner när den allra första atombomben detonerade i New Mexico den 16 juli 1945: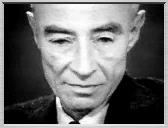 We knew the world would not be the same. A few people laughed... A few people cried... Most people were silent. I remembered the line from the Hindu scripture the Bhagavad Gita; Vishnu is trying to persuade the prince that he should do his duty, and to impress him takes on his multi-armed form, and says, "Now I am become death, the destroyer of worlds." I suppose we all thought that, one way or another.
Citatet var alltså något han tänkte, men han sade det inte högt.
Texten kommer som sagt ur den hinduiska texten Bhagavadgita (skrivs ibland som två ord, "Bhagavad Gita"). Här och var antyds att det är ett felcitat, vilket skulle förklara den besynnerliga grammatiken. Men "am become" är en sorts poetisk arkaism, och stilgreppet är fullt medvetet; jämför Tennysons Ulysses:"I am become a name, for always roaming with a hungry heart". Eftersom Oppenheimer behärskade sanskrit så läste han texten i original, och översättningen är hans; ingen annan översättning jag hittat använder "am become"-konstruktionen.
Här följer texten med lite sammanhang. Fursten Arjuna står och tvekar inför att anfalla fiendens här; Vishnu, inkarnerad som Krishna, driver på, och motiverar genom att förklara hur världen är funtad, med själavandring, Brahman, Maya etc. Arjuna ber att få se Vishnu i hans "kosmiska", dvs. egentliga, form, en begäran som uppfylls. Den vederbörligen imponerade Arjuna frågar:
Tell me who are You in such a fierce form? My salutations to You, O best of gods, be merciful! I wish to understand You, the primal Being, because I do not know Your mission.
The Supreme Lord said: I am death, the mighty destroyer of the world, out to destroy. Even without your participation all the warriors standing arrayed in the opposing armies shall cease to exist.
Therefore, get up and attain glory. Conquer your enemies and enjoy a prosperous kingdom. All these (warriors) have already been destroyed by Me. You are only an instrument, O Arjuna.
Bhagavadgita, kap. 11, vers 31-33
I en gammal hinduisk text hade man kanske förväntat sig något mindre krigiskt, men ordet kala som här översätts med "döden" kan även tolkas som "tiden", vilket ju ger en något annorlunda framtoning; båda alternativen är vanliga i översättningar. Ordet kan även betyda "mörk, svart". Dess feminina form är Kali, som gudinnan.


Sri Bhagavan uvaca / Kalo asmi loka-ksaya-krit
pravardho / lokan samartum iha pravattah ...
Den markerade raden och nästa kan översättas till "Tiden är jag, den åldrige världsförgöraren, hitkommen att uppsluka världen" (Gansten).
Här är en något annorlunda återgivning av händelseförloppet, där en annan vers också fått komma med; på morgonen ifråga så hände det sig att ...
... two pages from the Bhagavad-Gita, the sacred Hindu poem, flashed through Oppenheimer's mind: "If the radiance of a thousand suns / were to burst into the sky / that would be like / the splendour of the Mighty One" and "I am become Death, the shatterer of worlds".
Current Biography Yearbook 1964
Den andra versen utgör en del av beskrivningen av Vishnus kosmiska form, och återfinns i vers 12 i samma kapitel som "become Death". Belägget från 1964 är det tidigaste jag hittat där det finns med. Man ser ofta de två verserna ihopbakade till en, men det är alltså fel.
If the splendour of a thousand suns were to blaze out at once (simultaneously) in the sky, that would be the splendour of that mighty Being (great soul).
Bhagavadgita 11:12 (Sivananda)
I en annan översättning (Prasad) finns en negation ("would not resemble the splendor") men den är inte med i källtexten.
På grund av avsaknad av äldre källor med vers 12 och Oppenheimers egen beskrivning så drar jag slutsatsen att den inte var något han tänkte på när bomben sprängdes.
And I wish I would remember what my brother said, but I can't - but I think we just said, "It worked." I think that's what we said, both of us. "It worked".
Frank Oppenheimer, bror till J. Robert, arbetade också på Manhattan-projektet, och fanns på plats i Trinity.
He grew tenser as the last seconds ticked off. He scarcely breathed. He held on to a post to steady himself . . . When the announcer shouted 'Now!' and there came this tremendous burst of light, followed ... by the deep-growling roar of the explosion, his face relaxed into an expression of tremendous relief.
En lite längre och citat-lös studie av Oppenheimer, av Brigadier General Thomas F. Farrell.
Kuriosa 1: I filmen Full metal jacket har soldaten Animal Mother skrivit "I am become death" på sin hjälm.
Kuriosa 2: Boken Tusen strålande solar av Khaled Hosseini har inte fått sin titel från Bhagavadgita utan från en dikt från 1600-talet av den persiske poeten Saib-e-Tabrizi.
Referenser:
Wikiquote: Intervju med Robert Oppenheimer, ur dokumentären The Decision to Drop the Bomb, 1965
En filmsnutt ur intervjun finns på många ställen, t.ex. här, här och om inte annat så här
"Bomb Peril Cited by Oppenheimer", New York Times den 31 maj 1955 - efter artikel i Le Figaro
Bhagavad Gita i översättning av Ramanand Prasad
Bhagavad Gita i översättning av Sri Swami Sivananda
Bhagavad Gita i original [PDF]
Martin Gansten, religionshistoriker och indolog, korrespondens i juni 2009
Current Biography Yearbook 1964, sid 331
"The Eternal Apprentice", Time den 8 november 1948
Richard Rhodes, The making of the atomic bomb (Penguin Books 1988), sid 675 - citerar Frank O.
Alfred Tennyson: Ulysses