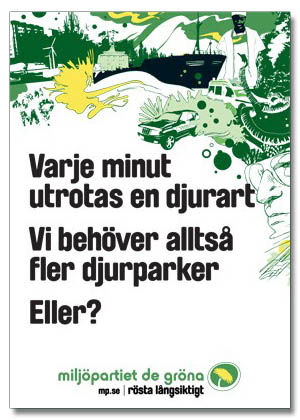 Att världens biologiska mångfald reduceras i en förfärande takt är ett faktum. Men går det verkligen så snabbt som miljöpartiet påstår på sin affisch? Över 1000 djurarter per dag?
Nej - i själva verket är det inget påstående alls. Varje förfrågan till mp.se ger samma svar (inkl. skrivfelet på slutet), med inte mindre än tredubbla förbehåll:
Det är svårt att få fram några exakta uppgifter på hur många arter det är som försvinner eftersom alla inte är kända. Alla våra affischer är tillspetsade, det är deras form. Syftet är att väcka uppmärksamhet åt en viss fråga som är viktig för oss gröna. Texten om artutrotning speglar ett framtidsscenario som vi fruktar att ska komma.
Kopior signerade Karolina, Mikael m.fl.
Bortsett från "tillspetsade framtidsscenarier", eller vad man nu vill kalla det - kanske "Framtidens nyheter"? - så kan man ju ställa sig frågan, hur många arter utrotas verkligen per dag? Djur, växter, övriga?
Osäkerhetsfaktorerna är onekligen stora och många. Mycket kunskap saknas, bara en sån sak som hur många arter det finns över huvud taget - för alla är överens om att vi bara kartlagt en bråkdel. Det är också därför många forskare undviker att uppge siffror som de vet är mer gissningar än något annat. De som ändå vågar göra kvalificerade gissningar kommer naturligtvis fram till tämligen olika siffor - konstigt vore det annars - men 1440/dag har jag bara hittat på 1 ställe.
Kan inleda citaten med en källa som enbart räknar med de arter man faktiskt vet faktiskt är utrotade eller utrotningshotade:
The total number of species declared officially Extinct is 784 and a further 65 are only found in captivity or cultivation. Of the 40,177 species assessed using the IUCN Red List criteria, 16,119 are now listed as threatened with extinction. This includes one in three amphibians and a quarter of the world's coniferous trees, on top of the one in eight birds and one in four mammals known to be in jeopardy.
IUCN
När man sedan går över till de som försöker räkna utifrån det totala antalet arter, som alltså är en obekant storhet, så börjar uppskattningarna också variera:
The current rate of extinction is from 100 to 10,000 species a year.
Sacramento Zoo: 0,3 - 30 / dag
On average, one extinction happens somewhere on earth every 20 minutes.
Levin & Levin: 72 / dag
We do not know the exact rate of extinction, but estimates range from one to 137 species disappearing worldwide per day (Stork 1996, Rainforest Action Network 1998).
TRFIC: 1 - 137 / dag
In the early 1970s the rate of species extinction was officially considered to be around one species per year. Dr. Myers calculated that it was likely to be as high as one species per day. If the extinction rate were to continue at that pace alone, it would precipitate the wholesale demise of species. Through more detailed research in the late 1980s and as tropical forests disappeared faster than ever - these forests feature the bulk of all species - he increased his extinction estimate to roughly 50 species per day. He also noted that the "natural" extinction rate before humans arrived was roughly one species every 3-5 years. Although his findings were severely criticized at first, most scientists have eventually come to accept them.
Dr. Myers: 50 / dag
Notera även att ovanstående siffror inkluderar alla arter - djur, växter, svampar, mikrober...
Notera även att jag är medveten om det ironiska i att påpeka felaktigheter i valkampanjer. ;-)
Referenser:
World Conservation Union (IUCN): Release of the 2006 IUCN Red List of Threatened Species
Sacramento Zoo: Extinction Rates - Past and Present (barnsida)
Phillip S. Levin and Donald A. Levin: The Real Biodiversity Crisis, Macroscope januari-februari 2002
The Tropical Rain Forest Information Center: Deforestation of Tropical Rain Forests
The Asahi Glass Foundation, Profiles of the 2001 Blue Planet Prize Recipients: Dr. Norman Myers
Tack till alla som hjälpte till: Dag Stålhandske, Andreas Bergh, och flera på VoF:s forum