Play it again, Sam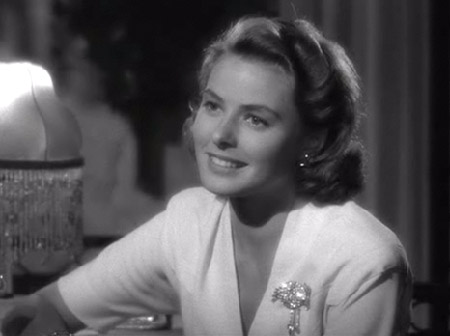 (Ingrid Bergman som Ilsa, Dooley Wilson som Sam.)
| | |
| --- | --- |
| Ilsa | Play it once, Sam. For old time's sake. |
| Sam | I don't know what you mean, Miss Ilsa. |
| Ilsa | Play it, Sam. Play 'As Time Goes By'. |
| Sam | Oh I can't remember it, Miss Ilsa. I'm a little rusty on it. |
| Ilsa | I'll hum it for you. |
Denna dialog ur Casablanca (1942) är det närmaste man kommer det kända "citatet". Senare säger Rick (Humphrey Bogart) "You played it for her, you can play it for me! ... If she can stand it, I can! Play it!" men det är ju inte ens i närheten. Trots det är det, som vi skall se, just Rick/Bogart som ofta tillskrivs det felaktiga citatet.
(När man grottat ner sig bland bibelöversättningar och medeltida manuskript och slikt för att reda ut trassliga tusenårsfaktoider så kan man häpna inför detta faktum, att folk lyckas fantisera ihop en replik som aldrig sagts i en film som historiskt sett lanserades alldeles nyss; i en enda version; på engelska; och det är ingen obskyr rulle precis, utan en av de mest sedda filmerna någonsin. Hur går det till? Påminner förresten om den här.)
| | |
| --- | --- |
| Allen - definitivt. | Marx - falsk ledtråd? |
The title "Play It Again, Sam" is taken cleverly from a passage in the Old Testament and is quoted in the playbill: "And the prophet saith, play it again, Sam. And Sam did play it again and there was rejoicing and they made a covenant and got boils."
Woody Allen beskriver sin nya pjäs
i New York Times, 9 februari 1969
En given kandidat är Woody Allens parodi Play it again, Sam. Den började som pjäs, färdigskriven 1967 fick den premiär på Broadway i februari 1969, sedan blev den film 1972. Å andra sidan så har jag hittat flera tidigare belägg där där citatet förekommer på ett uppenbart etablerat sätt.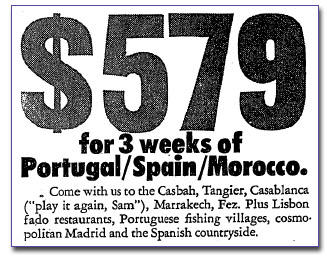 New York Times, 15 september 1968:
Alitalia gör reklam för gruppresor (min. 15 pers)
Packed houses that revel in every Bogart mannerism have spread to art and revival movie houses and to other campuses, including William College, where recently a concert pianist paused for applause after a difficult cadenza, only to hear a cry from the rear: "Play it again, Sam."
New York Times, 28 januari 1965
En kandidat för ursprunget som förts fram är bröderna Marx A Night in Casablanca från 1946, alltså bara fyra år efter Casablanca. Men där finns ingen replik "Play it again, Sam", eller något i närheten, eller ens någon Sam; och filmen är heller ingen parodi. Enligt en källa var den ursprungliga tanken att så skulle bli, i vilket fall repliken kanske finns på ett manus-utkast någonstans, men i själva filmen finns den inte.
Repeated in English
The famous line "Play it again, Sam" is not in Casablanca. A frequently mentioned origin is the Marx Brother's A Night in Casablanca. I have not been able to confirm this, despite watching the movie several times, and am now quite convinced it isn't there. There isn't even any Sam in it.
Additionally, it was apparently used and known well before the Woody Allen play and movie Play it again, Sam.
Referenser:
www.weeklyscript.com: Manuset till Casablanca
Filmsnuttar från Casablanca finns bl.a. på YouTube
Alitalia-annons, New York Times, 15 september 1968
"Old Bogart Films Packing Them In", New York Times, 28 januari 1965